an open-ended game of rocks and sand
the sandy space contains a bunch of rocks in either one of two possible colors, and yourself.
push and arrange the rocks to prototype and build your own computer, cellular automata, 1-bit art, etc.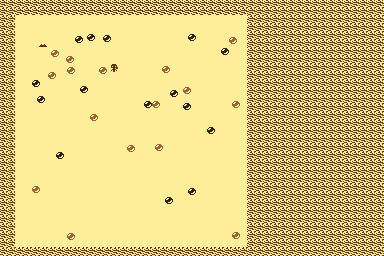 what will you do with the sand?
features
a character that moves in all four cardinal directions
rocks that can be pushed around, unless they are colliding with other rocks or the borders of the "arena"
a toggling station where rocks can be switched to the other color
realistic animation: the character slows down when pushing rocks, recovering their original speed when walking
controls
use the arrow keys for cartesian movement within the space
possible "improvements"
add an "official" pulling option (you can pull rocks right now, but in a hacky way)
save rocks state (position and color) to file
optimize the use of memory for rock colors, using one bit per rock instead of one byte
the code
this iteration has 31 rocks and a single toggling station where one can switch their color/state.
last updated: sjm-1659d3 (changed JNZ to JCN)
you can also find the code in the

( darena.usm )
( an open-ended game of rocks and sand )
( cc0 sejo 12021 )

%DEBUG  { .Console/byte DEO #0a .Console/char DEO }
%DEBUG2 { .Console/short DEO2 #0a .Console/char DEO }

( parameters )
%nrocks { #1f }
%nrocks-1 { #1e }
%nrocks_mask { #1f }
%minposx { #0f }
%minposy { #0f }
%maxposx { #f1 }
%maxposy { #f1 }
%anispeedmask_normal { #03 }
%anispeedmask_slow { #07 }

%c_color_normal { #33 }
%c_color_flipx { #73 }
%index_norock { #ff }

( output macros )
%out_screen_x { LDA #00 SWP .Screen/x DEO2 } ( ;addr )
%out_screen_y { LDA #00 SWP .Screen/y DEO2 } ( ;addr )

( helper macros )
%get_bit_n { SFT #01 AND }
%get_nibble_h { #04 SFT #0f AND }
%get_nibble_l { #0f AND }

%is_bit_n_set { get_bit_n #01 EQU }

%set_animate { #01 ;c_state LDA ORA ;c_state STA }
%rst_animate { #00 ;c_state STA }

( devices )

|00 @System     [ &vector $2 &wst      $1 &rst    $1 &pad   $4 &r      $2 &g     $2 &b      $2 ]
|10 @Console    [ &pad    $8 &char     $1 &byte   $1 &short $2 &string $2 ]
|20 @Screen     [ &vector $2 &width    $2 &height $2 &pad   $2 &x      $2 &y      $2 &addr  $2 &color $1 ]
|80 @Controller [ &vector $2 &button   $1 &key    $1 ]

( variables )

|0000

@c_pos [ &x $1 &y $1 ] ( character position )
@c_speed [ &x $1 &y $1 ] ( character speed )
@c_color [ $1 ] ( character color )
@c_sprite [ $2 ] ( character sprite addr )
@c_state [ $1 ] ( high_nibble: animation pointer, bit0: is_animated )

@f_count [ $1 ] ( frame counter )
@ani_speedmask [ $1 ] ( animation speed mask )

@r_speed_x [ $f ]
@r_speed_y [ $f ]

@tog [ &x $1 &y $1 &state $1 ] ( toggle station state )

( program )

|0100 @reset ( -> )
	#f396 .System/r DEO2
	#e263 .System/g DEO2
	#9030 .System/b DEO2

	;on_frame .Screen/vector DEO2	

	( init character )
	#50 ;c_pos/x STA
	#10 ;c_pos/y STA
	#00 ;c_speed/x STA
	#00 ;c_speed/y STA
	c_color_normal ;c_color STA
	;s_monitx_stepfront0 ;c_sprite STA2
	rst_animate

	anispeedmask_normal ;ani_speedmask STA

	( init toggler )
	#27 ;tog/x STA
	#27 ;tog/y STA
	#00 ;tog/state STA


	( init background )
	;init_bg JSR2
BRK


@on_frame ( -> )
	;f_count LDA #01 ADD DUP ;f_count STA ( increase frame counter )
	;ani_speedmask LDA ( mask with animation speed mask )
	AND #00 EQU ,update_frame JCN ( jump to update if it's time )
BRK

@update_frame
	( check keyboard )
	;check_keys JSR2

	( animate character sprite )
	;animate_c JSR2

	( clear sprites )
	;clear JSR2

	( update character vars )
	;update_c/run JSR2

	( update rocks + stand )
	;update_r/run JSR2

	( draw )
	;draw JSR2

BRK

@clear
	( clear rocks )
	;s_clear .Screen/addr DEO2

	nrocks #00
	&rocks_loop
		DUP ( get rocks_x[i] )
		;rocks_x ROT #00 SWP ADD2 out_screen_x

		DUP ( get rocks_y[i] )
		;rocks_y ROT #00 SWP ADD2 out_screen_y

		#30 .Screen/color DEO

		#01 ADD
		DUP2 
		NEQ ,&rocks_loop JCN
	POP2

	( clear character )
	;clear_c JSR2
JMP2r

@draw
	( draw toggler )

	;tog/x out_screen_x
	;tog/x out_screen_y
	;s_stand .Screen/addr DEO2
	#23 .Screen/color DEO

	( draw rocks )
	;s_bola .Screen/addr DEO2

	nrocks #00

	&rocks_loop
		DUP ( get rocks_x[i] )
		;rocks_x ROT #00 SWP ADD2 out_screen_x

		DUP ( get rocks_y[i] )
		;rocks_y ROT #00 SWP ADD2 out_screen_y

		( DUP ( get color bitwise ) )
		( ;r_color LDA SWP get_bit_n #31 ADD .Screen/color DEO )

		DUP
		;r_color ROT #00 SWP ADD2 LDA #31 ADD .Screen/color DEO

		#01 ADD

		DUP2 
		NEQ ,&rocks_loop JCN
	POP2

	( draw character )
	;draw_c JSR2
JMP2r

@check_keys
	#00 ;c_speed/x STA
	#00 ;c_speed/y STA

	.Controller/button DEI #07 is_bit_n_set ,&der JCN
	.Controller/button DEI #06 is_bit_n_set ,&izq JCN
	.Controller/button DEI #05 is_bit_n_set ,&aba JCN
	.Controller/button DEI #04 is_bit_n_set ,&arr JCN

	rst_animate

	JMP2r

	&der
		#01 ;c_speed/x STA
		set_animate
		c_color_normal ;c_color STA
		;s_monitx_stepside0 ;c_sprite STA2
	JMP2r

	&izq
		#ff ;c_speed/x STA
		set_animate
		c_color_flipx ;c_color STA
		;s_monitx_stepside0 ;c_sprite STA2
	JMP2r

	&aba
		#01 ;c_speed/y STA
		set_animate
		c_color_normal ;c_color STA
		;s_monitx_stepfront0 ;c_sprite STA2
	JMP2r

	&arr
		#ff ;c_speed/y STA
		set_animate
		c_color_normal ;c_color STA
		;s_monitx_stepback0 ;c_sprite STA2
	JMP2r

	&end
JMP2r

( sub-routines )

( in: sourcex, source y, index, rangex, rangey )
( puts in the stack the index of rock collisioned with )
@collision_rocks
	&range_y $1
	&range_x $1
	&src_i $1
	&src_x  $1
	&src_y $1

	&rock_x $1
	&rock_y $1
	
	&run
		,&range_y STR
		,&range_x STR
		,&src_i STR
		,&src_y STR
		,&src_x STR

		( check collision with rocks )
		( nrocks #00 )
		,&src_i LDR nrocks_mask AND DUP #01 ADD nrocks_mask AND 

		&rocks_loop
			DUP ( get rocks_x[i] )
			;rocks_x ROT #00 SWP ADD2 LDA ,&rock_x STR

			DUP ( get rocks_y[i] )
			;rocks_y ROT #00 SWP ADD2 LDA ,&rock_y STR
			
			,&src_x LDR ,&rock_x LDR ,&range_x LDR SUB GTH ( if sx > rx - 8  )
			,&src_x LDR ,&rock_x LDR ,&range_x LDR ADD LTH ( if sx < rx + 8  )
			,&src_y LDR ,&rock_y LDR ,&range_y LDR SUB GTH ( if sy > ry - 8  )
			,&src_y LDR ,&rock_y LDR ,&range_y LDR ADD LTH ( if sy < ry + 8  )
			ADD ADD ADD #04 EQU ,&found JCN

			#01 ADD nrocks_mask AND
			DUP2 
			NEQ ,&rocks_loop JCN
		POP2
		#ff
		JMP2r
	&found
		SWP POP ( remove loop limit )
		DUP ;&src_i LDA NEQ ,&end JCN ( check if result is the same as index )
		POP #ff
		JMP2r

	&end

JMP2r

@update_c ( update character position )
	&new_x $1
	&new_y $1

	&rock_i $1
	&rock_x $1
	&rock_y $1


	&run
		;c_speed/x LDA ;c_pos/x LDA ADD 
		,&new_x STR
		;c_speed/y LDA ;c_pos/y LDA ADD 
		,&new_y STR

		anispeedmask_normal ;ani_speedmask STA

	&check_x
		( check collision with borders )
		,&new_x LDR minposx EQU ;&noup_x JCN2
		,&new_x LDR maxposx EQU ;&noup_x JCN2


		( check collision with rocks )
		,&new_x LDR ,&new_y LDR index_norock #09 #06
		;collision_rocks/run JSR2

		( if it is colliding with rock, check further )
		DUP #ff NEQ ,&check_x_collision JCN
		POP
		,&update_x JMP

	&check_x_collision
		( DUP DEBUG )
		( slow down and save rock index )
		anispeedmask_slow ;ani_speedmask STA
		,&rock_i STR
		
		( check if rock collides with others )
		;rocks_x #00 ,&rock_i LDR ADD2 LDA ,&rock_x STR
		;rocks_y #00 ,&rock_i LDR ADD2 LDA ,&rock_y STR

		,&rock_x LDR ,&rock_y LDR ,&rock_i LDR #09 #06
		;collision_rocks/run JSR2

		( DUP DEBUG )

		( if it is colliding, then skip adding x )
		DUP #ff NEQ ,&check_y JCN
		POP


		( if not, check for borders )
		;&rock_x LDA minposx EQU ;&noup_x JCN2
		;&rock_x LDA maxposx EQU ;&noup_x JCN2

		( move rock with same speed as c )
		;&rock_x LDA ;c_speed/x LDA ADD 
		;rocks_x #00 ;&rock_i LDA ADD2
		STA

	
	&update_x
		;&new_x LDA ;c_pos/x STA	

	,&check_y JMP

	&noup_x

	&check_y
		( check collision with borders )
		;&new_y LDA minposy EQU ;&noup_y JCN2
		;&new_y LDA maxposy EQU ;&noup_y JCN2

		( check collision with rocks )
		;&new_x LDA ;&new_y LDA index_norock #06 #09
		;collision_rocks/run JSR2

		( if it is colliding with rock, check further )
		DUP #ff NEQ ,&check_y_collision JCN
		POP
		,&update_y JMP

	&check_y_collision
		( DUP DEBUG )
		anispeedmask_slow ;ani_speedmask STA
		;&rock_i STA
		
		( check if rock collides with others )
		;rocks_x #00 ;&rock_i LDA ADD2 LDA ;&rock_x STA
		;rocks_y #00 ;&rock_i LDA ADD2 LDA ;&rock_y STA

		;&rock_x LDA ;&rock_y LDA ;&rock_i LDA #06 #09
		;collision_rocks/run JSR2

		( DUP DEBUG )

		( if it is colliding, then skip adding y )
		DUP #ff NEQ ,&noup_y JCN
		POP

		( if not, check for borders )
		;&rock_y LDA minposx EQU ;&noup_y JCN2
		;&rock_y LDA maxposx EQU ;&noup_y JCN2

		( if not colliding, then move rock with same speed as c )
		;&rock_y LDA ;c_speed/y LDA ADD 
		;rocks_y #00 ;&rock_i LDA ADD2
		STA


	&update_y
		;&new_y LDA ;c_pos/y STA
	JMP2r

	&noup_y
JMP2r

@update_r
	&rock_i $1

	&run

		( check collision with rocks )
		;tog/x LDA ;tog/y LDA index_norock #02 #02 
		;collision_rocks/run JSR2

		( if it is colliding with rock, check if it needs to change state )
		DUP #ff NEQ ,&change_state JCN

		( DUP DEBUG )
		
		( if there's no collision, reset toggler )
		POP
		#00 ;tog/state STA
		JMP2r

	&change_state
		( DUP DEBUG )
		,&rock_i STR
		;tog/state LDA ,&done JCN ( don't toggle if state is active )

		;r_color #00 ,&rock_i LDR ADD2 DUP2 STH2
		LDA #01 EOR STH2r STA
		#01 ;tog/state STA
	&done

JMP2r

@animate_c 
	( is bit0 -animate- on? )
	;c_state LDA DUP #00 get_bit_n #01 NEQ ,&s_no_animate JCN

	( increment and save animation pointer )
	&s_animate
		DUP 
		get_nibble_h #01 ADD #03 AND #40 SFT 
		SWP get_nibble_l ORA 
		;c_state STA
	JMP2r

	&s_no_animate
		get_nibble_h #0f AND ;c_state STA
JMP2r

@draw_c ( draw character  )
	#00 ;c_state LDA get_nibble_h #08 MUL
	;c_sprite LDA2 ADD2 .Screen/addr DEO2
	;c_pos/x out_screen_x 
	;c_pos/y out_screen_y
	;c_color LDA .Screen/color DEO
JMP2r

@clear_c ( clear character )
	;s_clear .Screen/addr DEO2
	;c_pos/x out_screen_x 
	;c_pos/y out_screen_y
	#30 .Screen/color DEO
JMP2r

@init_bg
	( init bg )
	;s_border .Screen/addr DEO2

	.Screen/height DEI2 #0000 STH2
	&vertical0loop
		DUP2 
		STH2r
		DUP2 .Screen/y DEO2

		
		.Screen/width DEI2 #0000 STH2
		&horizontal0loop
			DUP2
			STH2r
			DUP2 .Screen/x DEO2

			#23 .Screen/color DEO

			#0008 ADD2 DUP2 STH2 
			GTH2 ,&horizontal0loop JCN

		STH2r POP2 POP2
		

		#0008 ADD2 DUP2 STH2 
		GTH2 ,&vertical0loop JCN
	STH2r
	POP2 POP2

	( arena )

	;s_clear .Screen/addr DEO2

	 #00 maxposy  #00 minposy STH2 
	&vertical0loop_clear
		DUP2 
		STH2r
		DUP2 .Screen/y DEO2

		
		 #00 maxposx  #00 minposx  STH2 
		&horizontal0loop_clear
			DUP2
			STH2r
			DUP2 .Screen/x DEO2

			#20 .Screen/color DEO

			#0008 ADD2 DUP2 STH2 
			GTH2 ,&horizontal0loop_clear JCN

		STH2r POP2 POP2
		
		#0008 ADD2 DUP2 STH2 GTH2 ,&vertical0loop_clear JCN
	STH2r
	POP2 POP2

JMP2r

( rocks )
@rocks_x [ 	25 30 42 50  67 90 98 e8  20 43 43 57  5a 7f bc a5  
		e5 dd a2 20  b7 9b 38 e8  33 43 63 b7  aa cf bc   ]
@rocks_y [ 	60 48 34 56  23 65 65 65  ba e9 24 22  72 91 22 c5 
		25 30 42 50  67 90 98 e8  20 43 43 57  5a 7f bc  	] 
@r_color [ 	00 01 01 00  00 00 01 01  01 01 00 00  01 01 00 00
		01 00 01 00  00 01 00 01  01 01 01 01  00 00 00	 ]


( sprites )

@s_clear [ 0000 0000 0000 0000 ]
@s_border [ 3288 7e83 780d e013 ]
@s_bola [ 3c4e 9ffd f962 3c00  ]
@s_stand [ 0000 0000 0024 7eff ]
@s_stand_original [ 0000 0000 0000 3c7e ]

@s_monitx [ 3c7e 5a7f 1b3c 5a18 ]
@s_monitx_back [ 3c7e 7efe d83c 5a18 ]

@s_monitx_stepfront0 [ 3c7e 5a7f 1b3c 5a18 ]
@s_monitx_stepfront1 [ 3c7e 5a7f 1b3c 5a10 ]
@s_monitx_stepfront2 [ 3c7e 5a7f 1b3c 5a18 ]
@s_monitx_stepfront3 [ 3c7e 5a7f 1b3c 5a08 ]

@s_monitx_stepback0 [ 3c7e 7efe d83c 5a18 ]
@s_monitx_stepback1 [ 3c7e 7efe d83c 5a10 ]
@s_monitx_stepback2 [ 3c7e 7efe d83c 5a18 ]
@s_monitx_stepback3 [ 3c7e 7efe d83c 5a08 ]

@s_monitx_stepside0 [ 1c3c 7afc d81c 1818 ]
@s_monitx_stepside1 [ 1c3c 7afc d81c 1828 ]
@s_monitx_stepside2 [ 1c3c 7afc d81c 3810 ]
@s_monitx_stepside3 [ 1c3c 7afc d81c 1814 ]

llega(n) aquí